INVEST PROJECT RECEIVES EXTENSION GRANT FOR 4 MORE YEARS OF THE EU ALLIANCE!
The INnoVations of REgional Sustainability: European UniversiTy Alliance (INVEST) is delighted to announce that it has been awarded a significant grant to further its mission of advancing regional sustainability. The results of the 2023 Erasmus+ call were published on 3 July 2022. Out of 65 applications received, 20 alliances were selected involving more than 250 higher education institutions. This grant, totalling 14 million euros, (80% funding from the European Commission and 20% co-funding), has been granted under the ERASMUS+ program, allowing INVEST to extend its groundbreaking work for an additional 4 years.
We would like to extend our thanks and appreciation to all the teams involved in the development of the pilot phase, as well as those who contributed to securing this grant extension.
INVEST is an alliance comprising the following universities:
- SLOVAK UNIVERSITY OF AGRICULTURE IN NITRA
- KARELIA UNIVERSITY OF APPLIED SCIENCES
- UNIVERSIDAD DE CORDOBA
- UNIVERSITA' DEGLI STUDI DI MILANO-BICOCCA
- UNIVERSITE DE REIMS CHAMPAGNE-ARDENNE
- UNIVERSITY OF AGRIBUSINESS AND RURAL DEVELOPMENT - PLOVDIV
- UNIVERSITY OF THESSALY
This diverse consortium of universities is united in its commitment to address the pressing challenges of higher education and create meaningful change.
In an era marked by complex global issues such as climate change, environmental degradation, and socio-economic disparities, regional sustainability has emerged as a critical imperative. The INVEST project recognizes the significance of local ecosystems, economies, and communities in achieving sustainability goals. Through collaborative efforts, we strive to develop innovative solutions and foster sustainable practices that positively impact our societies and beyond.
The core ambition of the INVEST project is to drive transformative change in education, research, and sustainable practices across our member universities. By fostering a culture of innovation, interdisciplinary collaboration, and community engagement, we aim to develop cutting-edge solutions and nurture a new generation of sustainability leaders.
To achieve our mission, INVEST is structured around the following focal points: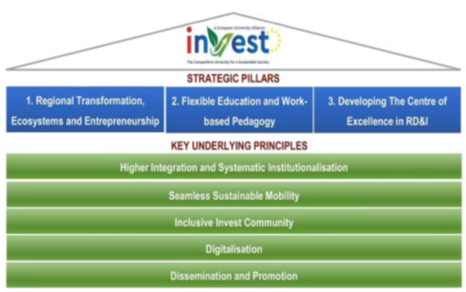 Pillar 1 Regional Transformation, Ecosystems and Entrepreneurship
Strategic objective: To bring resilience to regional communities, we shall innovate regional practices, foster entrepreneurship and build in a start-up culture. This will bring added value to the regional ecosystems to respond to the needs of more sustainable and responsible Europe, and build greener, more inclusive and actively participating societies.
Pillar 2 Flexible Education and Work-based Pedagogy
Strategic objective: To increase the potential of the Alliance graduates and life-long learners to become highly skilled Europeans who are able to cooperate and work within different European and global cultures, in different languages, and across borders, sectors and academic disciplines, our strategic priority is to develop innovative work-based pedagogies enabling authentic learning opportunities and real life challenges and flexible joint international educational models that benefit from the newest research knowledge.
Pillar 3 Developing the Centre of Excellence in RDI
a Strategic objective: To create a common environment to strengthen links between research and innovation area and educational area to meet the contemporary challenges of the European regions, INVEST creates a joint Centre of Excellence in RDI. The Centre of Excellence will unite researchers, educators, regional authorities, industrials, and civic society within a joint entity to co-create new knowledge that can be implemented in education and in regions.
INVEST Alliance embarks on Phase II to improve European higher education and research, enhance its global competitiveness, and European cooperation by intensifying transnational university collaboration in all of its forms. Since innovation occurs both inside and outside of the existing EU Alliances, INVEST proposes a new paradigm of HEI experience and best practices by expanding partnership with three competitive highly ranked universities, thus maximizing the potential of tertiary European Education as a whole and providing member states with further impetus for system-level reform in the formulation of an EU policy to support universities.